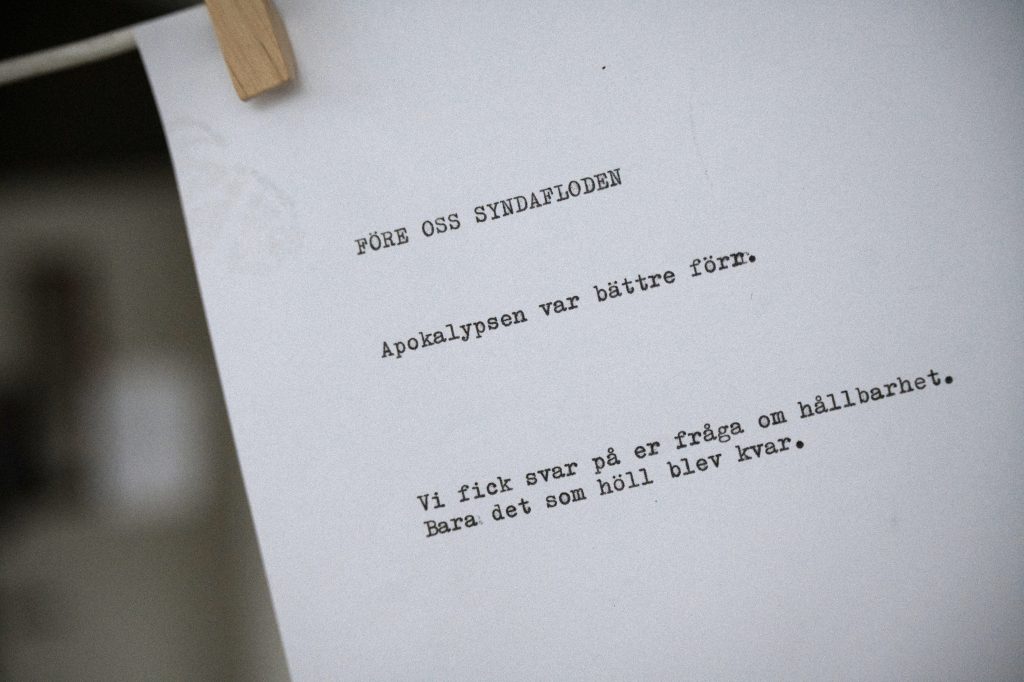 Underlevare is the fragmentary story of a Sweden after a societal collapse. A handful of people live in the remnants of what was: breathing, freezing, loving, wondering. Picking at the traces of a fallen culture. Sorting, sifting, preserving, discarding. Trying to understand what it was like to live in teeming anthills, with job contracts and garbage collection, every day being fed stories of your civilization's greatness.

Read Underlevare (in Swedish) on Instagram.
Underlevare är en fragmentarisk berättelse om ett Sverige efter samhällets kollaps. Några människor lever i resterna av det som var: andas, fryser, älskar, undrar. Plockar bland spåren av en fallen kultur. Sorterar, gallrar, sparar, kasserar. Försöker förstå hur det var att bo i myllrande myrstackar, ha anställningsavtal och sophämtning, och dagligen matas med berättelser om sin civilisations storslagenhet.
Följ Underlevare på Instagram.
Some of the texts of Underlevare
Documentation of exhibition at Bergsjöns kulturhus, Göteborg. Photos by Hendrik Zeitler.
Documentation of exhibition at Lyktan, Göteborg. Photos by Ingeborg Zackariassen.